News | Events
Thank you  for your enormous support at this difficult time we appreciate it  
We are OPEN 7days a week! for takeaway! 
Unfortunately, all performances for this year from 26 December 2020 onward are cancelled. Due to the announcement on 23December!  That Sussex will go into Tier 4 from Boxing Day.
We will process refunds to everyone who has paid for tickets.
We thank you for your patience and understanding! Although this is so disappointing for everyone, I am pleased to say we will keep our restaurant open for takeaway 7days a week! 4:30pm to 10pm Advance order only, by phone 01342 716181 or preferred through Online portal!  www.thetarana.co.uk/order-online  24/7
Merry Christmas & Happy New Year 2021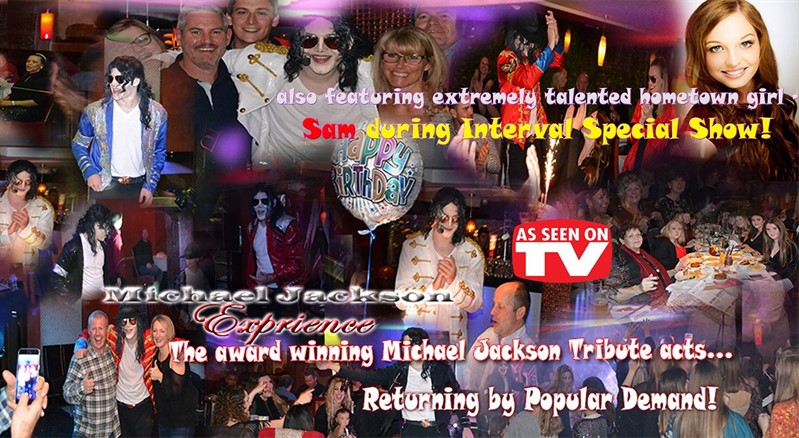 Live entertainment:- First Show – 7 pm  Second Show – 9 pm 
*at interval magnificent show by very talented Sam to compliment MJ*
Book your table/Purchase your ticket now 
Ticket: £10 ph + Food and Drink from à la carte!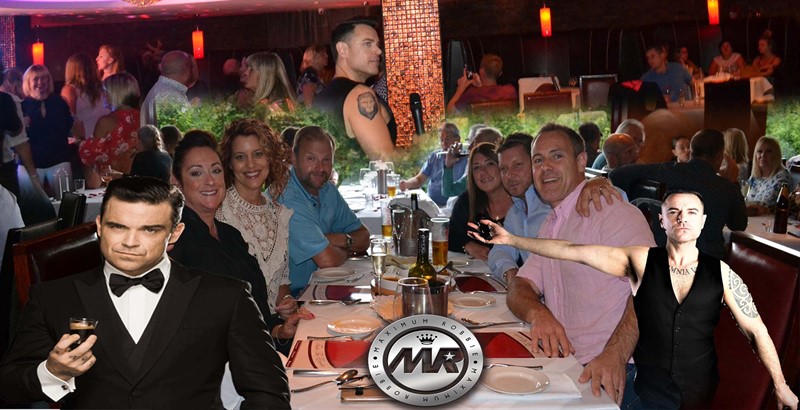 One of the most entertaining and energetic professional tribute artistes on the European circuit! His energy and commitment levels are boundless and his overall resemblance to Robbie Williams himself is truly striking to say the least. Let him totally entertain you with Robbie's vast array of hits from past and present including many of the Swing and Take That favourites.
Ticket: £10 ph + Food and Drink from à la carte!
Ticket: £10 ph + Food and Drink from à la carte!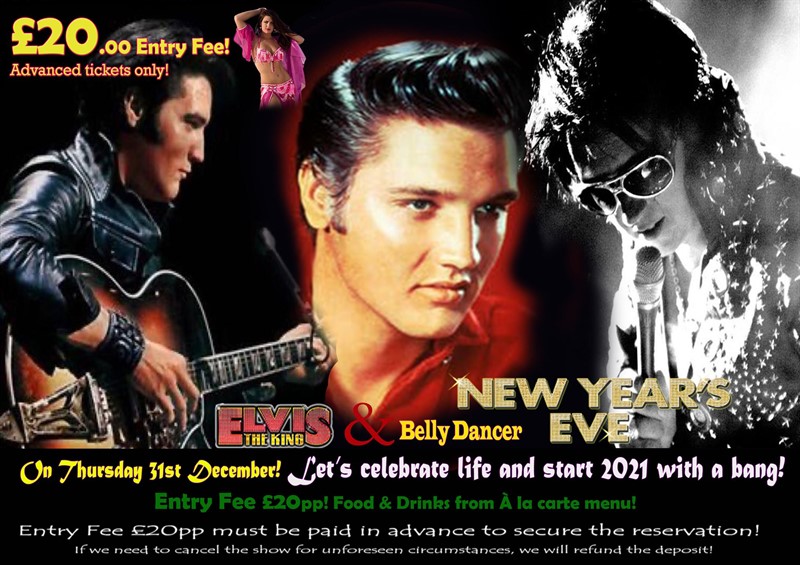 Let's celebrate life and start 2021 with a bang!
Join us at Tarana for New Year's Eve and bring in the year with The King himself...Suspiciously Elvis!!
The evening will kick off at 8.30pm with The King performing all his early classic Rock'n Roll numbers that will get you dancing in your seat!
During the interval, you will experience Tarana's own mesmerising exotic fusion Belly dancer
The King then returns to the stage at 10.00pm with Suspiciously Elvis's full Las Vegas Show to rock and dance till late!
Entry fee £20 per person! Food & drink from A la carte!
(Tickets must be paid in advance!)
Book Now to avoid disappointment!
Early Dinner 4:30pm – 7:00pm (tables must be vacated by 7pm)
Already have party plans but forgot dinner arrangements? Join us for an early dinner, enjoy a complimentary belly dance show at 5:20 pm and leave 2020 behind in style. Normal menu prices apply.
Tarana prides itself with the highest standards in health and safety and all live music events are conducted in line with the COVID guidelines!!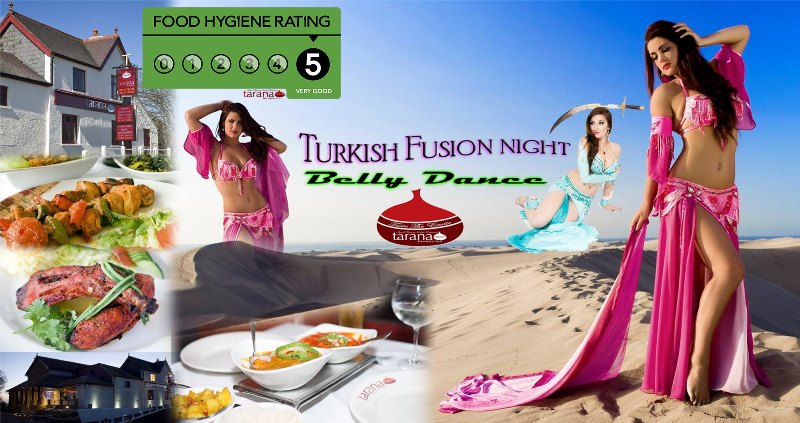 Turkish Fusion Night Wednesday, 6th January 2021! Turkish Fusion night at Tarana Turners Hill with Crystal Come along and enjoy the exotic Indian foods cooked by our award-winning chefs & the wonderful, vibrant performances by our lovely belly dancer!
HELLO, We are excited to announce by popular demand Adele tribute act Katie who doesn't need an introduction, is returning Chosen by Adele herself for the BBC Graham Norton show, Katie Markham is the Ultimate Adele Tribute. Katie will send shivers down your spine as she performs all of the hits from the albums you love.What are you waiting for?
Book your table today and join us for an awesome evening of great food & live entertainment!Ticket: £10 ph + Food and Drink from à la carte!Come along sit back and enjoy your meal (in line with COVID guidelines)
Booking time recommended 5:30pm Table is yours until 10pm.
Bank: Santander
Name: Tarana Catering Ltd
Sort Code: 09-01-29
Account No: 36470420
Ref: Reservation name + 2402(Jahan2402) please email us once you made the transfer!
We are looking forward to welcoming you to an unforgettable night!

Takeaway: Please Order early as possible and pick a time to collect you can order 24/7! Order at your convenience ORDER NOW  
Click & Collect and pay direct to the bank where possible!   
If you do not receive an email reply within 2 minutes, please check your Spam/Junk email! If no luck please call us on 01342 716363 to confirm we have received your order! Please, add our email address in your contact to avoid email landing in junk! 
On checkout & pick payment method, CASH for bank transfer, please use this method where possible, this protects staff and saves you time.
Bank: Santander
Beneficiary Name: Tarana / Tarana Catering Ltd 
Sort Code: 09-01-29 Account No: 36470420  
Ref: Your Name (as register with us on this site!) to make future payments easier!
Hope you are in good health; we appreciate your patience during these difficult times. I am pleased to say 99.5% of the time your order is ready, waiting for you to collect! Please turn up at the time quoted! We are on time!  
Please help us to pay it forward! Your custom/support is helping, more support we get more we can do, providing FREE meals for NHS! as well as your nominated care home Staffs for caring for our elders, especially at this difficult time! Actual staffs who care for our Elderly and people with support needs! Those of you are on FaceBook hopefully have seen some feedback & feeds! We have served more than 2000 free meals to Hospitals, caring for Covid19, and NHS staffs in general! Including GP surgery and list are adding each week!
we would like to feed as many as possible, your help is appreciated, and your continued support/orders making it possible! to Feed our heroes! We are all in this together and together we will beat it. If you would like to sponsor a Hospital, hospital ward, GP or a Care home please Click Here!
At the moment we have just the right number of staff members to cope with the volume we are receiving and would love to expand as much as safely possible! so we can welcome back a few more of our colleague who are furloughed and eagerly waiting to come back to what they love! Without doubts, they are missing you, folks!   
We have totally complied within government guidelines to safeguarding our team, our customers, and delivery drivers. Place your order via the website Please Click Here to order now.   
We kindly ask all customers to take note of the following:
1. We will not take any order in the restaurant (pr-ordered takeaway, collection only)
2. Preferred ordering method Online & pay direct to the bank where possible!
3. Limited number of people will be allowed in the restaurant at a time. Please adhere to the government rules of 2-meter separation while inside
4. If it says FULL CAPACITY on Fishtank, Please wait outside until called in, again adhere to the 2-metre rule if queuing outside or remain in your car and call us to advise you are here and we will call you once your order is ready to pick up!
5. Payment can be Cash / Card / Apple pay unlimited, card payments over the phone, bank transfer.  
Bank: Santander
Name: Tarana Catering Ltd  T/a Tarana
Sort Code:09-01-29
Account No:36470420
Ref: Your Name (as register with us on this site!) to make future payments easier!
If you are requesting delivery, Please Allow Us Plenty of Time to Cook and Deliver Your Food Safely!
Stay safe, healthy and look after yourselves and your loved ones!
Best Regards,
 Jahan
FREE meals to NHS
To Help Our HEROES! we will be delivering free meals to our local hospital staff on pre-arranged dates at least once a week, So if you are a NHS team member and wish us to supplies some hot food to your team please send us an email to info@thetarana.co.uk with details we will gladly arrange a treat for you and your colleague!  
We strongly believe nothing can truly repay those who are risking their own safety to keep us safe, 
We have served more than 2000+ free meals to our heroes! In hospitals that is caring for Covid19, and NHS staffs in general! Including GP surgery and list are adding each day! 
If anyone wishes to DONATE some HOT meals through us to a prefered NHS hospital please do get in touch! We will be glad to serve on behalf of you! with minimum cost! You can donate as much as you want! We will make it clear whom the food is from or if you wish, you can be anonymous! 
let us appreciate their hard work and devotion together we can do more! 
Stay Safe