News | Events
Yes, there is light at the end of tunnel!!
Our Full Hospitality will resume from Monday 17th May 2021 as per government advice!  
In meantime let, we all continue to play your part in controlling the virus! & look forward to reclaiming our freedom!! Please Book your table NOW!  We are grateful & cannot thank you enough for your support! 
Thank you  for your enormous support at this difficult time we appreciate it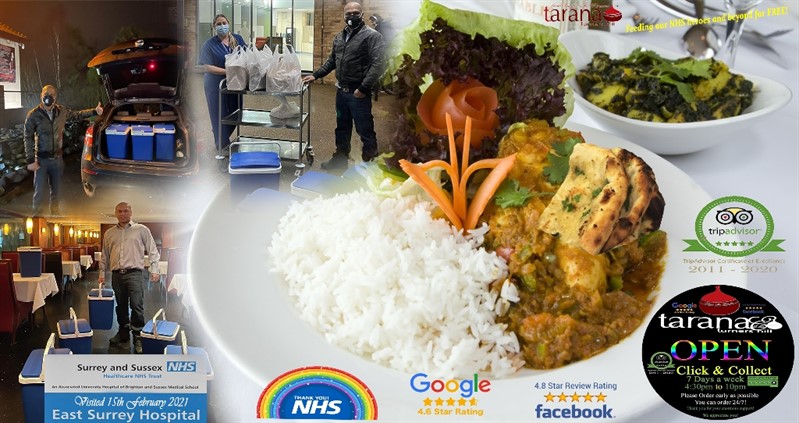 We are OPEN 7days a week! for takeaway! 
Takeaway: Please Order early as possible and pick a time to collect you can order 24/7! Order at your convenience ORDER NOW  
Click & Collect and pay direct to the bank where possible!   
If you do not receive an email reply within 5 minutes, please check your Spam/Junk email! If no luck please call us on 01342 716363 to confirm we have received your order! Please, add our email address to your contact to avoid email landing in junk! 
On checkout & pick payment method, CASH for bank transfer, please use this method where possible, this protects staff and saves you time.
Bank: Santander
Beneficiary Name: Tarana / Tarana Catering Ltd 
Sort Code: 09-01-29 Account No: 36470420  
Ref: Your Name (as register with us on this site!) to make future payments easier!
Hope you are in good health; we appreciate your patience during these difficult times. I am pleased to say 99.5% of the time your order is ready, waiting for you to collect! Please turn up at the time quoted! We are on time!   
Please help us to pay it forward! Your custom/support is helping, more support we get more we can do, providing FREE meals for NHS! as well as your nominated care home Staff for caring for our elders, especially at this difficult time! Actual staff who care for our Elderly and people with support needs! Those of you who are on FaceBook hopefully have seen some feedback & feeds! We have served more than 3000 free meals to Hospitals, caring for Covid19, and NHS staff in general! Including GP surgery and list are adding each week!
we would like to feed as many as possible, your help is appreciated, and your continued support/orders making it possible! to Feed our heroes! We are all in this together and together we will beat it. If you would like to sponsor a Hospital, hospital ward, GP, or a Care home please Click Here!
At the moment we have just the right number of staff members to cope with the volume we are receiving and would love to expand as much as safely possible! so we can welcome back a few more of our colleagues who are furloughed and eagerly waiting to come back to what they love! Without doubts, they are missing you, folks!   
We have complied with government guidelines to safeguarding our team, our customers, and delivery drivers. Place your order via the website Please Click Here to order now.   
We kindly ask all customers to take note of the following:
1. We will not take any order in the restaurant (pr-ordered takeaway, collection only)
2. Preferred ordering method Online & pay direct to the bank where possible!
3. a limited number of people will be allowed in the restaurant at a time. Please adhere to the government rules of 2-meter separation while inside
4. If it says FULL CAPACITY on Fishtank, Please wait outside until called in, again adhere to the 2-metre rule if queuing outside or remain in your car and call us to advise you are here and we will call you once your order is ready to pick up!
5. Payment can be Cash / Card / Apple pay unlimited, card payments over the phone, bank transfer.  
Bank: Santander
Name: Tarana Catering Ltd  T/a Tarana
Sort Code:09-01-29
Account No:36470420
Ref: Your Name (as register with us on this site!) to make future payments easier!
If you are requesting delivery, Please Allow Us Plenty of Time to Cook and Deliver Your Food Safely!
Stay safe, healthy and look after yourselves and your loved ones!
Best Regards,
 Jahan
FREE meals to NHS
To Help Our HEROES! we will be delivering free meals to our local hospital staff on pre-arranged dates at least once a week, So if you are a NHS team member and wish us to supply some hot food to your team please send us an email to info@thetarana.co.uk with details! we will gladly arrange a treat for you and your colleague!  
We strongly believe nothing can truly repay those who are risking their own safety to keep us safe, 
We have served more than 3000 free meals to our heroes! In hospitals that are caring for Covid19, and NHS staffs in general! Including GP surgery and list are adding each day! 
If anyone wishes to DONATE some HOT meals through us to a prefered NHS hospital please do get in touch! We will be glad to serve on behalf of you! at a minimum cost! You can donate as much as you want! We will make it clear who the food is from or if you wish, you can be anonymous! 
let us appreciate their hard work and devotion together we can do more! 
Stay Safe